Don't forget the topping, so crunchy and sweet!
Batter added to muffin liners and ready for the oven.
Out of the oven and ready to cool.
Ready to eat yeah! They are the crunchy, moist and flavorful, a perfect muffin for any occasion.
Apple Pecan Crunch Muffins

Print recipe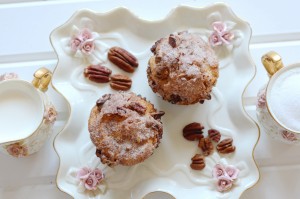 Directions
Ingredients for muffins

1/2 cup granulated sugar
1 teaspoon ground cinnamon
1/4 teaspoon ground nutmeg
1/2 cup coarsely chopped pecans or walnuts
2 cups all-purpose flour
3 Teaspoons baking powder
1/4 teaspoon salt
1/2 cup 2 percent or whole milk
1/2 cup plain yogurt
1/4 cup melted butter
1 teaspoon vanilla
1/2 cup applesauce
1 Egg
Paper Muffin baking cups, or also called cup cake liners

Ingredients for topping
4 Tablespoons granulated sugar
1 Teaspoon cinnamon
1/2 cup coarsely chopped pecans or walnuts

To make muffins, add all dry ingredients to large bowl, sugar, cinnamon, nutmeg, nuts, flour, baking powder, salt, and mix well. To this add milk, yogurt, vanilla, applesauce and egg. Mix well.

Add batter to greased muffin pan or muffin pan liners, filling each 2/3 full. Top batter with sugar nut mixture.

Bake at 400 degrees for 20 - 25 minutes, until golden brown. You can test by poking with toothpick, if tooth pick comes out clean the muffin is done cooking. When they are done remove from oven and transfer to cooling rack.