Best Ever Cilantro Chicken Quesadilla, made with grilled chicken, fresh home-made salsa and Monterrey jack cheese. You can't get any better than that, these fresh ingredients make the best quesadilla! You can serve as an appetizer or eat as a meal, sososoooo…… delicious. Cilantro Chicken Quesadilla is so easy to prepare and is such a crowd pleaser. Everyone will love this for appetizer or meal starter. Cilantro Chicken Quesadilla can be made in only a few minutes with leftover grilled or rotisserie chicken.
Cilantro Chicken Quesadilla

Print recipe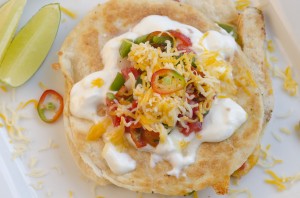 Cilantro Chicken Quesadillas are so good and easy to make. One of the nice things about them is you can make them in just a few minutes, if you have your chicken made ahead of time or if you use rotisserie chicken from the deli. Using fresh salsa to top the cilantro chicken quesadillas adds a wonderful flavor.
Ingredients
1lb Raw Chicken Breast (You can also use rotisserie chicken breasts)
1 lime
1 Garlic clove (mash fine with garlic press or knife)
2 tablespoons Soy Sauce
8 Medium Size Flour Taco Shells
3 Fresh Tomatoes (chopped fine you can use a food processor to chop.)
1/2 Jalapeno (chopped fine)
2 tablespoons Onion (chopped fine)
3 tablespoons Fresh Cilantro
1 dash Salt
1 dash Pepper
1/2 Green pepper or Anaheim (chopped fine)
8oz Shredded Cheese (Use Shredded Monterey Jack Cheddar cheese or other if you prefer)
1 cup Sour Cream (Use to garnish top of Cilantro Chicken Quesdilla)
use to garnish top of quesadilla
3 tablespoons Cooking Oil (Use Corn oil or Olive oil for best flavor)
Directions
Marinate Chicken Breasts
Mix together soy sauce, lime juice, and garlic. Pour over raw chicken breasts and marinate for 20 minutes or longer.
Grill chicken until done, about 6 minutes on medium heat, for each side of chicken breast, when cooked slice into small strips
Make salsa
Mix together chopped tomatoes, peppers, garlic, cilantro, salt and pepper
Building the Cilantro Chicken Quesadilla
Use large frying pan, add a 1 tsp oil heat up pan, and add a flour shell. Layer on the shell a few chicken strip, fresh salsa, and cheese.
Top with another flour taco shell. Cook at medium heat a few minutes on each side until the cheese melts and the shell slightly browns.