Artichoke Cucumber with Feta, is a very easy and refreshing salad to make. Making artichoke cucumber with feta is a very easy salad to make. Simply cut up your veggies and toss with vinegar, olive oil, white vinegar and some herbs and your done. You can vary it with whatever veggies you like or have. You can add raw zucchini, carrots, broccoli, pretty much any combination of these raw veggies is good. Plus these veggies fresh and raw are so good for you. Artichoke cucumber with feta make a great salad to go with any meal or top it with some grill chicken or sliced roast beef. The trick is being sure to pick up these fresh veggies when you are at the market, I buy whatever looks good and fresh. I get them home and chop them up and toss them together, and this salad always tastes soooo good. It is a nice change from the lettuce or romaine salad. By the way it also a good topper, to lay artichoke cucumber with feta, on a bed of crisp romaine lettuce, next top it with a  grilled chicken breast and this tasty little salad can be served as a meal. YUM.
Start with fresh ingredients.
Toss the veggies into a bowl, top with salt, pepper, herbs, olive oil and white vinegar, toss gently.
Wait 10-15 minutes and serve!
Artichoke Cucumber with Feta

Print recipe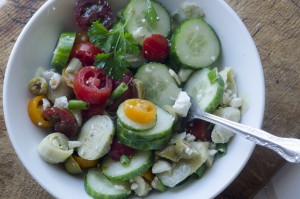 Directions
Artichoke Cucumber with Feta

Ingredients
1 Cucumber sliced with peeling left on ( the long thin green house ones are the best)
10-15 cherry size tomatoes
10-12 small green olives sliced in half
1 small artichokes drained
2-3 green onions sliced in small pieces
1/4 cup feta cheese
salt and pepper to taste
2 leaves fresh basil or a pinch of dry
1 sprigs of fresh parsley or 1/4 teaspoon dry
1 sprig of fresh mint or 1/4 teaspoon dry optional
3 T Olive Oil
1 T white wine vinegar

Instructions
Mix together raw veggies and artichokes.
Top with fresh herbs, oil, vinegar, salt and pepper
Toss gently, veggies, oil, herbs and vinegar, let set 10- 15 minutes and serve