I am so excited, this soup tastes so good. Wow, who would think squash could taste so good. This soup has such a creamy wonderful texture and taste. It is loaded with lots of veggies making it hearty enough to be eaten as a meal. Oh good, and I don't have to make anything else, everyone is content as can be eating this hearty soup. Everything is in one pot, the way I like it! Creamy butternut squash soup with veggies is easy to make, and it is so simple. Bake the butternut squash, puree it in a food processor with chicken broth and add your veggies with half & half, yum. What a great way to eat squash, and it has all that good beta carotene that is healthy for you too. The creamy Butternut Squash Soup is blended with potatoes, celery, onions, carrots, and sweet red peppers giving the soup a full body, that is so satisfying. Cook it up and garnish with croutons and parmesan cheese to make it extra special or use your favorite soup toppings.
Creamy Butternut Squash Soup with Veggies

Print recipe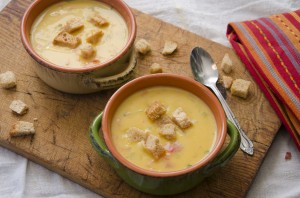 Creamy Butternut Squash with Veggies, a delicious hearty soup made with squash, potatoes, carrots, celery, onions, half & half, parsley and sweet red pepper
Ingredients
3 cups Medium Size Butternut squash (Remove seeds and bake a medium size butternut squash and scoop out the squash)
2 cans Chicken Broth 14 1/2 ounce (Reccomended to use low sodium)
1 cup 1/2 and 1/2 cream
2/3 cups Carrots (chopped into small pieces)
2 cups Peeled and cubed potatoes (about 3 medium sized)
2 stalks Celery (chopped into small pieces)
1/2 cup Sweet Red Pepper (diced into small pieces)
2 tablespoons Fresh Parsley (Substitute 1 Tablespoon dried parsley)
3 tablespoons Butter
4 tablespoons White Wine
1/4 teaspoon Salt
1/2 cup Onion (Finely chopped)
Note
Creamy Butternut Squash Soup with Veggies is an easy to make soup, that tastes delicious. You can vary it by adding fresh mushrooms as one of your sautéed  veggies.
Directions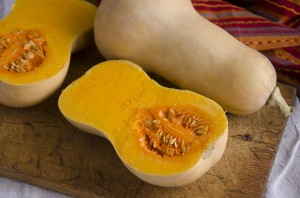 Cut Squash in half and remove seeds. Lay on cookie sheet and bake at 375 degrees until tender about 75 minutes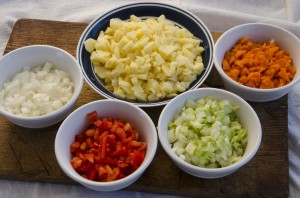 Cut up vegetables into small pieces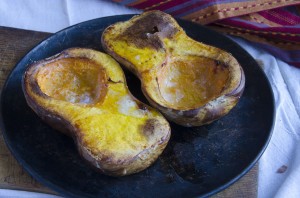 Remove cooked squash from skin, scoop it out.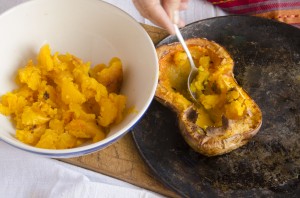 Add squash to food processor with 1 can of chicken broth and blend until smooth. Add this mixture to large saucepan, add second can of chicken broth and stir it all together with salt. Bring this mixture up to a high simmer.
Add two tablespoons of butter to large fry pan, and melt butter over medium heat. To melted butter add chopped potatoes, celery, onion, and carrots. Saute veggies for 10 minutes at medium heat, stirring occasionally so they don't burn. Next pour them into squash mixture and continue simmering for 20 minutes until veggies are tender.
Add chopped sweet red pepper, parsley and wine, bring back up to a simmer and simmer for 5 more minutes
Add half and half and heat back up for 5 minutes on low heat.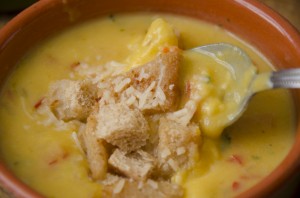 Serve with croutons and parmesan cheese or your favorite soup crackers.

https://sliceoftaste.com/
©Valerie Boese