Pulled Pork Slider with Kale Slaw & Swiss is one awesome tasting slider. Fresh whole grain bun filled with savory tasting pulled pork, topped with Easy to Make Kale Slaw and Swiss cheese. A combination of tantalizing  flavors, that your taste buds will be saying what took you so long? Seriously, this was not a lot of work, just tastes like it was. This was so easy, I made the pulled pork in my crock pot the night before. It comes out so tender and moist, it just falls apart, when it slowed cooked in the crock pot. Here is what I did, season a boneless 3 pound pork roast, drop it in your crock put or slow cooker, add a little water. For the barbecue sauce I like to use one made with bourbon, but you can use whichever one you like best. Pour over the pork 1-2 cups barbeque sauce and let it cook all night on low, abut 8-10 hours.
Remove, trim off any visible fat, shred with two forks, add to a covered baking dish, top with more barbecue sauce and finish if off in the oven. Let it cook at 200 degrees for 1-2 hours allowing the flavors of the barbecue sauce succumb the meat.
Making the Kale cilantro slaw was really easy to make with my food processor, I shredded all the veggies into it easily. Next I mixed the creamy sauce together and topped the slowed veggies. Let set 10 minutes and it is ready to top the sliders or eat as a side dish. The cilantro and kale add some unique flavors to this fresh slaw, adding just the right flavors to top the pulled pork slider. Click image for Kale Cilantro Slaw recipe.
Optional but, almost necessary before filling the  bun, top with Swiss cheese and put under the broiler for 30 seconds to melt the cheese and toast the bun to toast the bun under the broiler with Swiss cheese, that adds there right kick to this slider, these are so good. Nice thing about it you can make a dozen or more quickly and easily top twelve buns with butter on one side and Swiss cheese on the other, put them under your oven broiler for 1-2 minutes. Watch carefully, at this point so they do not burn. I stay right in front of stove until they are just right, about one minute in my oven.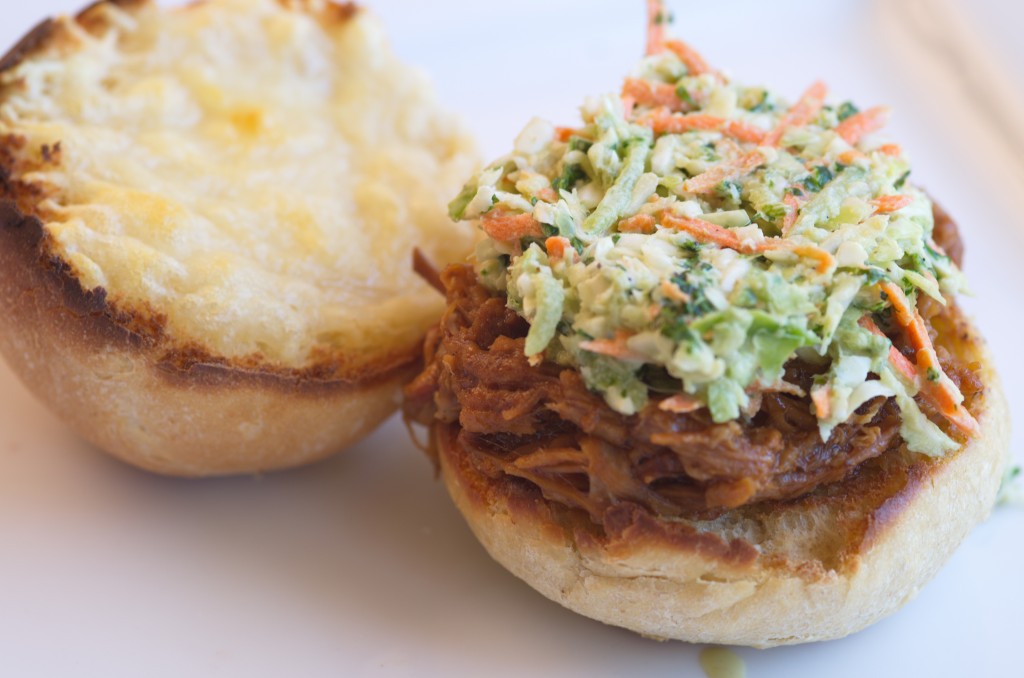 Take them out and top with a scoop of pulled pork and kale cilantro slaw and they are ready to be devoured!