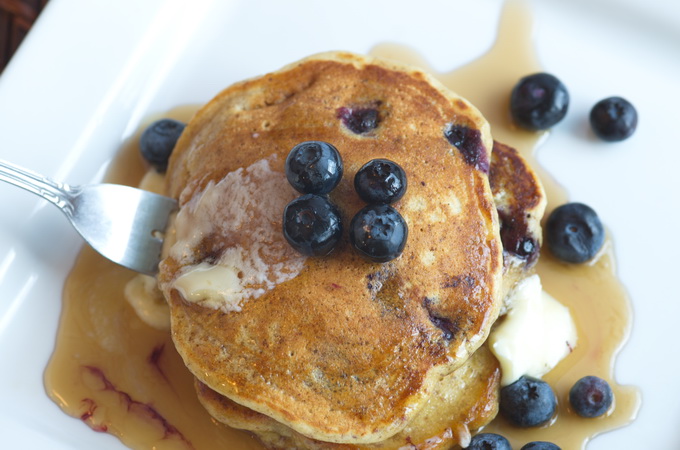 Try this wonderful Flax Blueberry pancake recipe, for you next breakfast. Wholegrain nutrition does not get any better than this, your guests will never know they are eating healthy. Flax Blueberry pancake is easy to make and can be prepared in less than 20 minutes. Simply mix up ingredients and cook in non stick pan with a little bit of cooking oil. Flax Blueberry pancakes will have your guests wondering how you can make pancakes taste so good and yet be healthy with flax, wholegrain flour and blueberries. I really don't understand why anyone would want to buy a pre-made pancake mix, when you make Blueberry Pancakes from scratch they taste so much better. You can substitute diced peach, apples or bananas for this recipe.
Flax Blueberry Pancake

Print recipe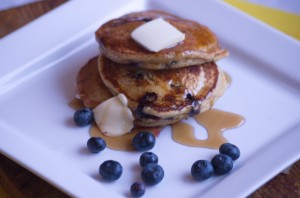 | | |
| --- | --- |
| Serves | 4 |
| Prep time | 10 minutes |
| Cook time | 20 minutes |
| Total time | 30 minutes |
| Meal type | Breakfast |
| Misc | Serve Hot |
Ingredients
3/4 cups White Flour
3/4 cups Whole Wheat White Flour (Look for White Whole Wheat at your local grocery store, Wal Mart has it too)
1/4 cup Flax Meal
1 cup Fresh Blueberries (You can also substitute frozen blueberries)
2 tablespoons Melted Butter
1 1/2 teaspoon baking powder
1 tablespoon sugar
1/2 teaspoon salt
1 Large Egg
2 cups Buttermilk
1 tablespoon Cooking Oil
Note
Tip: Good indication of time to flip pancakes is when bubbles begin to form on top of pancake, then flip it. Watch them so they do not burn, if they are turning brown in much less time, turn your stove down a little. Heat from a stove can vary from stove to stove.
Whole Wheat White Flour can be purchased at your local grocery store or Walmart. White whole wheat has a wonderful taste and is way better than regular whole wheat with as much or more fiber. It is non-gmo and grown in Montana.
Directions
Mix together flours, flax, baking powder, sugar and salt in medium size mixing bowl.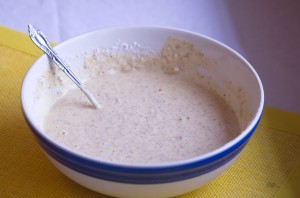 Add to mixing bowl, buttermilk & egg, mix well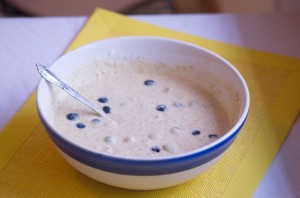 Add melted butter and blueberries to batter, mix well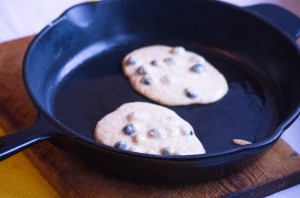 Add cooking oil to pan and heat up pan on medium heat. Use a 1/3 cup size measuring cup to measure batter and pour pancake batter into into heated frying pan. Cook 3-4 minutes on each side until golden brown.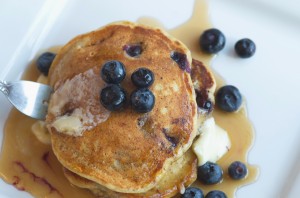 Serve with syrup and more fresh blueberries

https://sliceoftaste.com/
©Valerie Boese
---