Cream Cheese Tomato Soup, is indeed a delicious tomato soup made creamy with cream cheese. It is just right for a quick meal. What I like about this recipe is, I can make it with my home grown fresh tomatoes or with canned tomatoes. Either way, it turns out good every time, it can be made in a pinch when I need a quick hearty meal. This soup is my go to, in less than 45 minutes, I can serve it paired with a sandwich and have a complete dinner. Cream cheese tomato soup so thick and creamy, oh so good, it always hits the spot on a cool or rainy day. The best part it is a hot, nutritious meal, that is a snap to clean up and gives me time to relax and spend time with family, try it the next time you are in a pinch for a quick meal.
Cream Cheese Tomato Soup

Print recipe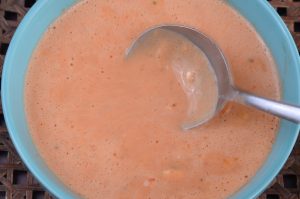 Creamy Tomato Soup with Cream Cheese Ingredients 10 medium size tomatoes one-quart canned tomatoes 2 Tablespoons chopped onion 1 T fresh basil or ½ tsp dried basil Pinch of dried oregano ½ teaspoon baking soda ½ teaspoon sea salt or regular salt Pinch of black pepper 1 Tablespoon butter 4 ounces cream cheese Instructions Boil water and add tomatoes, simmer covered for 3 minutes. Remove tomatoes and place in cold water, tap water is cold enough. Let cool in water a few minutes and peel them. Place peeled tomatoes, onion, basil, oregano, salt, and pepper in a covered saucepan and bring to a boil and simmer for 10 minutes. Add baking soda to simmering tomatoes, and cook for 2 minutes, the baking soda will neutralize the acid in the tomatoes. Add cream cheese and continue cooking for 3 minutes. Add tomato mixture to a food processor or blender and blend until smooth. Place back in the saucepan and add butter and heat on low heat for 5 minutes and serve.
Directions
Creamy Tomato Soup with Cream Cheese

Ingredients

10 medium size tomatoes one-quart canned tomatoes
2 Tablespoons chopped onion
1 T fresh basil or ½ tsp dried basil
Pinch of dried oregano
½ teaspoon baking soda
½ teaspoon sea salt or regular salt
Pinch of black pepper
1 Tablespoon butter
4 ounces cream cheese

Instructions

Boil water and add tomatoes, simmer covered for 3 minutes. Remove tomatoes and place in cold water, tap water is cold enough. Let cool in water a few minutes and peel them. Place peeled tomatoes, onion, basil, oregano, salt, and pepper in a covered saucepan and bring to a boil and simmer for 10 minutes.
Add baking soda to simmering tomatoes, and cook for 2 minutes, the baking soda will neutralize the acid in the tomatoes. Add cream cheese and continue cooking for 3 minutes. Add tomato mixture to a food processor or blender and blend until smooth. Place back in the saucepan and add butter and heat on low heat for 5 minutes and serve. Enjoy