Wheat Germ Flax Baguettes make a great tasting bread, that is very versatile. It can be used to make out of this world garlic bread, dip it in soups, or eat with your favorite salad. It is so yummy and healthy for you too, with wheat germ, flax  added and white whole wheat flour, your definitely getting whole grains added to your diet. If you are going to eat, why not make it tasty and healthy for you too. Wheat Germ Flax Baguettes were easy to make using my bread machine. I added the ingredients and let my bread machine do the work.
Once the dough was ready, I shaped the loaves, and topped them with sesame seeds. You could use poppy seeds or no seeds at all, whatever your preference is will work just fine.
Wheat Germ & Flax Baguettes

Print recipe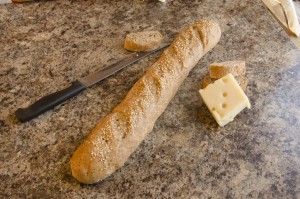 Directions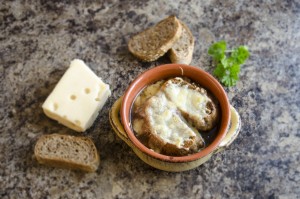 Ingredients
1 cup white flour
1 1/2 cups white whole wheat flour
1/2 cup wheat germ
1/3 cup flax
1 1/2 cup water
1 1/2 teaspoon yeast
1 1/2 teaspoon salt
sesame seeds or poppy seeds to top loaves
oil or parchment paper to put down on cookie sheet

Instructions
Heat 1/2 cup of the water to 105-110 degrees, add yeast, stir and let set for 6 minutes.
Add flours, wheat germ, flax, salt to bread machine canister

Add yeast water mixture after it has set for 6 minutes, and the rest of the water to bread machine canister.

Set bread machine to dough setting

When dough setting is done, split dough into half and shape two balls.

On floured surface roll one of the dough balls out, rolling into a rectangle shape about 1/2 inch thick. Then roll rectangle up like jelly roll and tuck in the ends. Set shaped loaves in warm spot let raise for about 1 hour.

Hint: I will put the shaped loaves on my stove, under my over head light where it is warm, to let the dough to rise.