Spaghetti with Green Chile Meatballs is tasty twist to your ordinary spaghetti and meatballs dinner. These scrumptious meatballs are made with mild green chilies. Here is  a unique way to add some flare to ordinary meatballs. Green chilies add a superb flavor, to your traditional spaghetti and meatballs. Here I used diced chilies out of the can, but you can also prepare your own chilies,  by putting fresh chilies under your broiler for a few minutes. I used fresh chilies for Creamy Chicken Crab Enchiladas, to see instructions for cooking fresh green chilies go to:  See Creamy Chicken Crab Enchilada
Use fresh ingredients for best results.
Check out this recipe, it is pretty easy to throw together. I first start by getting the seasoning for the spaghetti pasta ready. Seasoning your spaghetti this way, makes the most delicious spaghetti. In fact this seasoning method works great for any pasta that you prepare. Simply, take olive oil, fresh garlic, parsley, salt and pepper and combine them together and let these wonderful ingredients, fuse their flavors together, as the noodles cook.
I then add my tomato sauce ingredients to the large sauce pan and bring them to simmer, while everything else cooks. You can make your own as noted in recipe or use your favorite off the shelf variety. Next I get my meatballs ready. Add the meatball ingredients together, shape them and brown them in a large frying pan.
Cook over medium heat, brown them on one side for about 5-8 minutes then turn them. Once they are browned put them in a 350 degree oven for 20 minutes to finish cooking them. When they are done they look like this.
Timing works pretty good, while the meatballs are in the oven cook the spaghetti. Hint: If you are using a spaghetti cooker you may want to start the water in the spaghetti cooker, before browning the meatballs. The spaghetti cooker can take awhile to get the water to boiling point. Cook the noodles according to package directions, drain them and add them to a large dish. Now comes the fun part! Pour the olive oil seasoning mixture over the pasta and mix well.
Top the seasoned noodles with the delicious tomato sauce.
Ooohhh now add the yummy Green Chile Meatballs, oh so good.
Ready to eat, enjoy to your hearts content!
Spaghetti with Green Chile Meatballs

Print recipe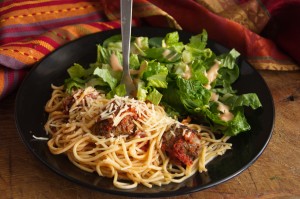 Directions
Spaghetti with Green Chile Meatballs

The Spaghetti Sauce
2 T butter
2T Olive Oil
2 cloves garlic
1 onion
2 teaspoons dried basil or 1/4 up cup fresh
2 bay leafs
3 T fresh parsley
2 T Worcestershire sauce
1 Teaspoon sweet red pepper flakes
1/4 teaspoon hot pepper flakes
3/4 teaspoon black pepper
3/4 teaspoon salt (more or less to your taste)
32 ounces canned tomatoes
16 ounces tomatoe sauce
7 ounce can diced green chilies
1/2 cup wheat germ optional

Use large sauce pan, add butter and melt over medium heat.
Finely chop onion and mince garlic, (a food processor works well to chops the onion.)
Add chopped onion and minced garlic to melted butter and cook over medium heat until tender low heat. Be careful not to overcook the garlic. Add canned tomatoes, tomatoe sauce, basil, bay leafs, sweet pepper flakes, hot pepper flakes, black pepper, and salt and simmer for one hour.

Making the Chile Meatballs

2 pounds ground lean beef
7 ounce can green Chiles
1 small onion chopped finely, about 3/4 of cup
1 clove garlic minced
2 T Worcestershire sauce
1/2 cup wheat germ (optional - this is a good way to add whole grains to this recipe
1/2 teaspoon salt or more to your liking
1/2 teaspoon black pepper

Mix all of the above together and use your hands to mix well, form into small balls size of ping pong ball, brown in frying pan about 15 minutes, put in large baking dish bake at 350 degrees for another 20 minutes, until done.

Spaghetti Noodles

13.25 ounce package of Spaghetti Noodles,
2 Bay leafs
3 T fresh parsley chopped fine or 1 teaspoon dried
1 clove garlic minced
2 T Olive Oil
1/4 teaspoon salt
1/4 teaspoon black pepper

Combine 3 T parsley, 1 minced garlic, 2 T olive oil, 1/4 teaspoon each of salt and pepper in small bowl and let set
Cook spaghetti noodles according to package directions with the two bay leafs.

Putting it all together

In large bowl mix cooked noodles in with parsley olive oil mixture. Remove meatballs from oven and pour spaghetti sauce over them. Then pour meatball sauce mixture over the noodles. Serve immediately.