Easy Gnocchi Chicken Soup is easy to make and tastes so delicious. A combination of gnocchi pasta, chicken in a light creamy soup. Easy Gnocchi Chicken Soup is made with home made gnocchi, which is the easiest home made pasta you will ever make. Gnocchi from scratch can easily be made in thirty minutes or less. Oh, and it the taste of fresh made gnocchi is superb. Here is what you do, cook your potatoes, shred the potatoes while hot, mix hot shredded potatoes with flour, Parmesan cheese, eggs, and a little nutmeg. Knead it in to a large ball, divide the large ball into 6 small ones, next roll each ball into a long rope. Cut the ropes into one inch pieces.
A wonderful ultimate comfort food, good all by itself as a main course or served as a meal starter. The gnocchi makes this creamy chicken soup so good, taking an ordinary creamy chicken soup to an extraordinary succulent soup.
Easy Gnocchi Chicken Soup

Print recipe
Directions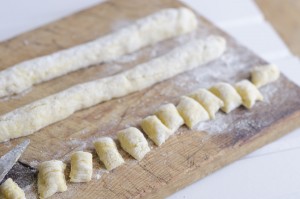 Soup Ingredients
4 cups Gnocchi, buy from market or make fresh (see Gnocchi recipe here)
2 chicken breasts cut up in small pieces
2 stalks celery chopped into small pieces
1/2 cup chopped raw onion
1 T chicken base or 3 chicken bullion cubes
1 cup cream
1/2 cup Grated Parmesan cheese plus extra to garnish soup
8 cups water or chicken stock,
3 Tablespoons flour
2 T fresh parsley or 1 Tablespoon dry parsley
1/4 teaspoon dried thyme
1/4 teaspoon black pepper
1/2 teaspoon salt

Gnocchi Ingredients
2 large size potatoes, peeled and cooked whole
4 cups of water
2 eggs
1/4 teaspoon nutmeg
3/4 cup Parmesan cheese or any Italian blend type cheese
11/2 cup flour
1/2 teaspoon salt
1/4 teaspoon black pepper

Cooking Chicken and broth mixture

To large sauce pan add 8 cups water, chicken, celery, onion, salt, pepper, chicken base, thyme, oregano and parsley. Bring to a boil and simmer for one hour or until chicken is cooked and tender. Remove from heat. ( Do not drain, this will be your home made chicken broth) Add your store bought Gnocchi now and lightly boil broth until Gnocchi floats or make your own see steps, below.

Cooking Potatoes for Gnocchi
Add 4 cups of water to large sauce pan, add potatoes, cover and cook potatoes, until they are fork tender. Drain off water. Shred hot cooked potatoes immediately with shredder or food processor. Be sure to shred while potatoes are still hot. Pasta will turn out the best when kneading hot potatoes with flour mixture.

Gnocchi Flour Mixture
In large bowl combine flour, nutmeg, salt and black pepper and mix well.

Making Gnocchi
Add cooked hot shredded potatoes to Gnocchi flour mixture. Mix in hot potatoes, give it a few stirs and add eggs and 3/4 cup Parmesan cheese, mix all together well. Pour onto floured surface and knead ingredients, about 10 times to form a large smooth ball. Divide large ball into 6 smaller balls. Roll each ball into the shape of a rope about one inch in diameter and about 10-12 inches long. Cut rope into one inch pieces.

Cooking Gnocchi
Heat up chicken and broth mixture, to a boil, drop in Gnocchi in boiling broth, the Gnocchi will cook in one minute. It floats when it is done. Once all the gnocchi cooked, remove soup from heat. In separate bowl add 3 Tablespoons of flour to 1 cup of cream, mix well with wire whip. Add cream flour mixture to gnocchi chicken broth and heat back up slowly on low heat to thicken soup.


Finish soup, by adding cream and 1/2 cup Parmesan cheese, cook on low heat for 10-12 minutes, until soup thickens, serve by garnishing with fresh Parmesan cheese.