Baked Cocoa Kettle Corn is a unique way to make kettle corn; it is baked instead of being prepared on the stove top. With this easy baking method, you do not have to worry about the sugar burning as you do when you cook it on the stove top. The cocoa brings the incredible taste of chocolate, to this sweet, crunchy popcorn treat. This wonderful snack tastes just like the good stuff you get at the county fair, but it costs way less.
If you don't have much time to bake well don't worry, Baked Cocoa Kettle Corn can be prepared and cooked in less than 45 minutes. You heat the ingredients in a saucepan, pour over the popcorn, and bake. With this baking technique, this delicious goodie turns out perfect every time. It so good, I should have named it, Disappearing Cocoa Kettle Corn, it disappears as soon as it comes out of the oven. It is just scrumptious, and no other words can describe it. Baking kettle corn is a win-win because it is so easy to make and clean up is a snap, you toss the parchment paper in the trash, and it can't be any easier than that.
Here's a shortcut, use microwave popcorn instead of popping your popcorn the old fashioned way, they both make fantastic tasting Baked Cocoa Kettle Corn. To make the classic version of kettle corn, leave out the cocoa and be sure to include all the other ingredients and follow the same baking directions, enjoy.
Baked Cocoa Kettle Corn

Print recipe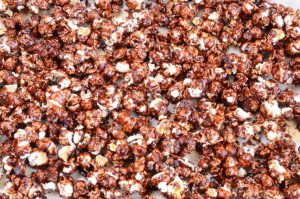 Directions
Ingredients

1/3 cup corn syrup
½ cup sugar
1 tablespoon water
3 tablespoons of unsweetened cocoa
1½ tablespoons butter
½ teaspoon vanilla
¼ teaspoon salt
10 cups plain popped popcorn in large bowl

Instructions

Add corn syrup, sugar, and water, to saucepan and heat on medium heat. Stir and continue cooking until sugar is dissolved and bring mixture to a light boil, cook for two additional minutes.

Add vanilla, cocoa, butter, and salt to corn syrup mixture in saucepan, continue occasional stirring and bring back to a light boil, continue cooking for an additional 3-4 minutes, stirring occasionally.

Pour hot cocoa corn syrup mixture over popcorn and mix well in large bowl. Next pour popcorn on to parchment paper on a large cookie sheet and spread to two kernels deep and place in preheated 275-degree oven, bake for 25 minutes.

Remove from oven and let cool, as it cools break it apart with a large spoon. Once it is cooled, it is ready to serve or store in air-tight container. It only takes a few minutes to cool.