Healthy Oatmeal Chocolate Chip Cookies made with yummy chocolate chips, old fashioned oatmeal and whole-wheat white flour. You gotta try this recipe, you won't know they are healthy for you. I took my old chocolate chip recipe and added whole grains to it. I am on a whole grain kick, I figure if you are going to eat good stuff you may as well put stuff good for you body in it. Whole grains are filled with fiber, nutrients and trace minerals that help keep our cholesterol and blood pressure down. Be sure to check out using the Whole wheat white flour, it is non-gmo "genetically modified organism", it has more as much fiber as the traditional whole wheat, and tastes way better. These cookies were so easy to make, I made them all in one bowl, shaped them and baked them. Little mess and I cooked them all up in about an hour, making about 4 dozen.
Easy to make mix ingredients together and shape into balls and ready for the oven, woolaa.
Healthy Oatmeal Chocolate Chip Cookies

Print recipe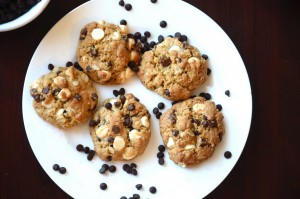 Directions
Ingredients
2 cups of chocolate chips and combination, white, dark, mini whatever you like
1 teaspoon vanilla
1 cup brown sugar
1 cup oatmeal
1 cup white flour
1 cup whole white wheat flour or another cup of white flour
1 teaspoon baking powder
1 teaspoon baking soda
1/2 teaspoon sea salt or regular salt
1 stick of butter or margarine melted
3 eggs

Preheat oven to 375 degrees

Mix all dry indigents together and mix well in large bowl
Melt butter, add vanilla to melted butter.
Add melted butter and vanilla to dry ingredients in large bowl and mix together.
Beat 3 eggs in separate bowl and add to large bowl will all the other ingredients.
Mix all the ingredients in large bowl, mix until all become a smooth consistency

Use large cookie sheet, lay down parchment paper or spay with cooking spray.

Shape cookies into balls size of an English walnut, lay on cookie sheet about 2-3 inches apart.

Add cookies to 375 degree pre-heated oven, set on middle rack, and bake for 12 minutes.

**Ovens may vary a little, you may need to add a minute or subtract a minute to baking time.