Whole Grain Apple Spice Pancakes are deliciously healthy for you. They are made with a unique ingredient of white whole wheat flour, which is a sweeter and tastier version of regular whole wheat flour. Oh, every bite is as scrumptious as the first one, down to the last crumb. When you eat these pancakes, it is almost like eating cake for breakfast, with all the flavors of apple spice cake. Wow, your tastes buds by topping these amazing pancakes with apple butter and whipped cream, nothing better, oh with a little syrup too. They are so delicious and better than any store bought pancake flour.
The great benefit here is, you are eating whole grains that taste good. I know we have all heard this before, but whole grains help keep your heart healthy, blood pressure down, and ward off diabetes. I am living proof; I tried for several years to bring my blood pressure down to a normal range, and when I started eating whole grains daily, it was like magic my blood pressure dropped to normal. Having these little guys for breakfast is an easy way to add whole grains to your eating regime, without much fuss. The sweet thing about making these tasty pancakes is the prep and cook time is about 15 minutes. This batter can be added to a waffle iron maker to make waffles. A good time saver is to cook up some extra pancakes or waffles on the weekend and pop them in the toaster for a quick breakfast for school or work days.
Whole Grain Apple Spice Pancakes

Print recipe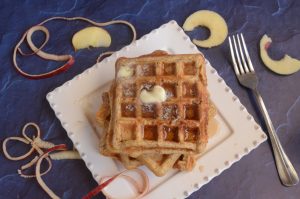 Directions
1 cup whole wheat white flour
2 teaspoons baking powder
¼ cup corn starch
¼ cup wheat bran (optional) substitute flour if you leave out.
2 Tablespoons ground flax
2 teaspoons sugar
½ teaspoon cinnamon
¼ teaspoon ground cloves
¼ teaspoon ginger
¼ teaspoon nutmeg
1 teaspoon vanilla
1 large egg
1 cup buttermilk
½ cup grated apple
3 T melted butter
1 T cooking oil or more

Making the Batter

Mix flours, baking powder, cornstarch, wheat bran, flax, sugar, cinnamon, cloves, nutmeg, well together. Add egg, buttermilk, melted butter, and vanilla and mix well. Lastly, add grated apple and mix well.

Cooking the Pancakes

Heat up oil in large nonstick frying pan or griddle, on medium heat. Drop a large spoonful of batter in fry pan to make pancakes, more batter will be a larger pancake, a 1/3 cup measuring cup works pretty good to get them all the same size. Let them cook about 3-5 minutes until browned then flip to brown the other side another 3-5 minutes. Top with apple butter first, then the whipped cream, and syrup. Topping them in this order will prevent the whipped cream from melting on the hot pancake.