Roasted Bacon Cheddar Cauliflower is a terrific way to eat cauliflower. It can be made in a jiffy, with prep time of 5 minutes and cook time of 10-15 minutes. A tasty combination of roasted cauliflower gooey cheddar cheese and crisp bacon all in one bite. The best part about this recipe it is super easy to make, cut up the cauliflower, place on parchment paper on a  baking sheet, brush with a little cooking oil and season it.  Place under the broiler, about 10 minutes until the edges start to brown. Clean up is a breeze, toss the used parchment paper into the trash. Pull it out of oven spread the cheddar on and sprinkle on the crispy bacon, back in the oven it goes, just until cheese is melted and bubbly. Oh, so healthy for you and packed with amazing flavor!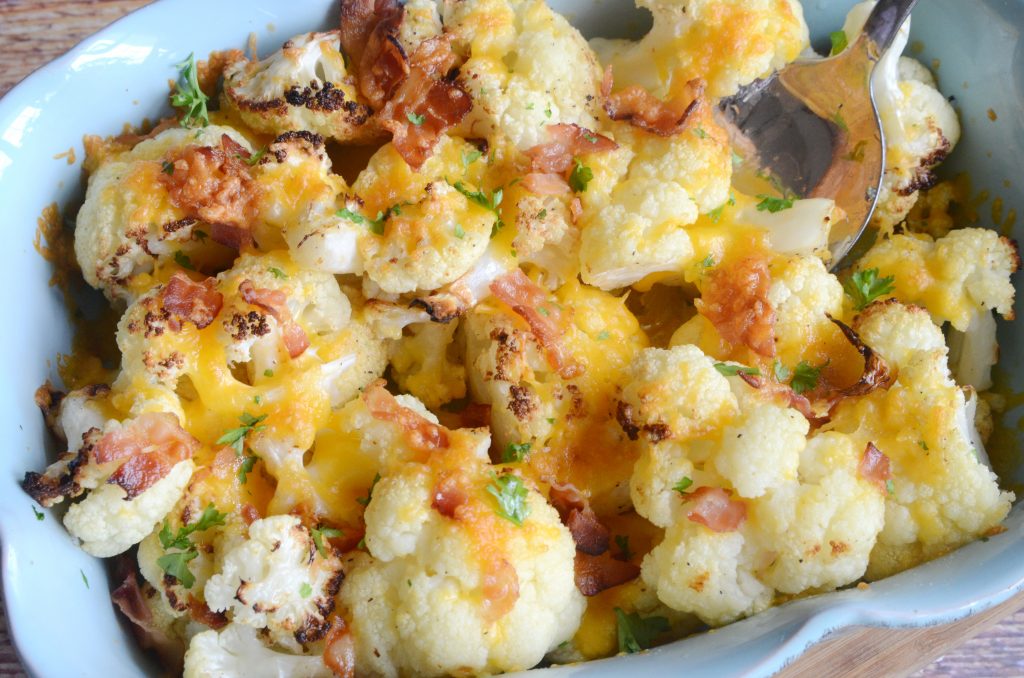 So easy to make brush the cauliflower with cooking oil of your choice, season salt and pepper, and place under the broiler.
Roasted Bacon Cheddar Cauliflower

Print recipe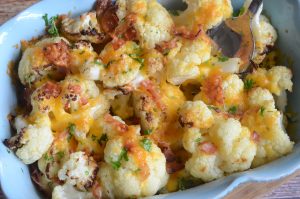 Directions
Roasted Bacon Cheddar Cauliflower

Ingredients
1 head of cauliflower
2 Tablespoons cooking oil
3/4 cup shredded cheddar cheese or more to your liking
4-6 slices of cooked bacon
Salt and Pepper to season.


Wash cauliflower with a veggie wash or water and drain. Cut into 1 1/2 inch cubes, lay on parchment paper on large cookie sheet. Brush with cooking oil. Season with salt and black pepper. Preheat oven broiler, place cauliflower in middle of the oven and bake 15-20 minutes, just until the edges of the cauliflower start to brown. Remove from oven top with cheese and bacon, place back in the oven for couple minutes, just until cheese is melted and bubbly. Remove from oven and serve.