Black Bean Southwest Egg Rolls, easy to make and they taste fantastic. You only need a few ingredients to make them. I made them by using egg roll wrappers that you get in the produce section, at your local grocer. I cooked the black beans from scratch, or you can use canned black beans, either will work just fine. Once you have your beans ready, it was easy, I mixed together black beans, seasonings and cheese. Next, I added a scoop of bean mixture on to each egg roll wrapper and sealed the wrapper. I put the finished egg rolls in hot oil, 425 degrees, for about 4 minutes, until they were golden brown on each side. Remove golden brown egg rolls from hot oil and let them cool for 5 minutes. Now they are ready to be dipped, oh so delicious. I dip them in the Mayo Parmesan Cilantro dipping sauce which tastes so amazing. This was a quick preparation, it only took about 20 minutes to mix filling together and make 10 black bean Southwest egg rolls. Black bean Southwest egg rolls, are sooo good that they taste just like the ones you get in the restaurant.
Now comes the fun part, roll them up. By the way kids love to make these egg rolls, they like the hands on activity in making their own food.
Now dab a little water on the edges.
Roll them up and seal it and it is ready to hit the hot oil.
Ready for dipping, oh yummy!
Black Bean Southwest Egg Rolls

Print recipe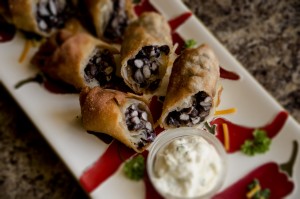 Directions
Southwest Egg Roll Ingredient's
2 cups cooked black beans
1/2 cup Colby jack or Monterey jack cheese
1/2 teaspoon cumin
1/2 teaspoon salt
1/4 teaspoon black pepper
1/3 cup red onion chopped fine
1/2 cup red sweet pepper chopped
1 package of large egg roll wrappers

Mix all of above ingredients together in medium size bowl.

Making the Egg Rolls

Lay out a sheet of egg roll wrap on flat surface, lay across the egg roll wrap about 1/2 cup of black bean mixture and fold according to egg roll package directions, sealing the end with your fingers dabbing water.

Heat deep fat fryer to 400 degrees and cook egg rolls n hot oil a few minutes on each side until brown. Let then set a few minutes too cool before serving, they will be real hot.

Mayo Parmesan Cilantro Dipping Sauce
1/2 cup mayonnaise
3 Tablespoons sour cream
2-3 Tablespoons cilantro chopped
1/2 jalapeno chopped
1/3 cup parmesan cheese

Mix mayonnaise, sour cream, cilantro, jalapeño, parmesan cheese together. Let the sauce let set a 10 minutes and it is ready to be dipped!