Buffalo Chicken Pizza

Print recipe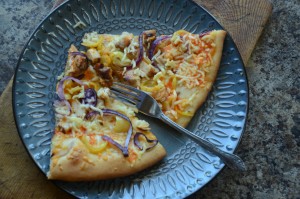 Directions
One large pizza dough crust, home made or store bought
2 cups fully cooked grilled chicken breasts cut into 1 inch chunks
1 1/4 cup shredded cheddar cheese
1 1/4 cup mozzarella shredded cheese
1/2 cup pickled pepper rings, more or less to your liking, sweet or spicy.
Buffalo wing sauce, 1/2 or more to your liking
1/2 red onion sliced into thin rings

Top pizza dough in this order cheddar cheese, chicken, and peppers,
Nest, drizzle buffalo sauce over the top of the chicken and peppers, top with red onion rings and lastly spread the mozzarella cheese over all.

Bake at 400 degrees middle rack for 15-20 minutes until crust is golden brown and cheese is melted.