Easy Loaded Potatoe Rounds

Print recipe
Directions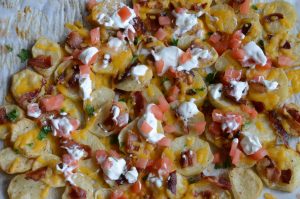 Ingredients
5 medium sized potatoes peeled
4 slices of cooked bacon
3 T Olive Oil or other cooking oil
salt and pepper to taste
3/4 cup cheddar cheese
1 T fresh chopped parsley for garnish
1/2 cup sour cream little more or less to your preference
1/2 tomato diced

Instuctions
Preheat oven to 375 degrees. Slice peeled potaotes into thick slices about 3/8th of inch thick. Add sliced potatoes to large bowl, season with salt and pepper, pour olive oil over mix well, until all potatoe slices are coated with the oil.

Use a large cookie sheet, either non stick or use parchemnt paper. Lay potatoes single layer on the cookie sheet add to preheated oven and bake 20 and flip potatoes over, and bake another 20 minutes, until tender and golden brown.

Remove from oven and top with cooked crumbled bacon and cheddar cheese, place back in oven at 350 degrees for a few minutes, until cheese is melted. Top with bits of tomato and sour cream. Serve hot.