Marinate raw chicken breasts with sliced jalapeños, crushed garlic, chopped cilantro, lime juice and soy sauce. This marinade makes the best chicken fajitas, you will ever eat!
Cilantro Chicken Fajitas

Print recipe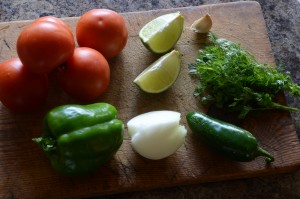 Directions
Cilantro Chicken Fajitas
Instructions
1 1/2 pound raw boneless chicken breasts
1 large onion cut into half inch slices
3 large peppers, any color or 4 Anaheim chillis pepper, or combination of both
2 large cloves of pressed garlic
2 Tablespoons soy sauce
1/2 cup chopped fresh cilantro
3-4 Tablespoons of cooking oil
dash salt and pepper
1 jalapeño chopped finely, seeds removed.

Cilantro Jalapeño Marinade
Mix together garlic, soy sauce, cilantro, chopped jalapeño, salt and pepper.
Pour all over raw chicken breasts and let set in refrigerator to marinate for at least one hour, 2-3hours would be better.

Light your grill to get it hot. Remove chicken from refrigerator. Grill chicken breasts a few minutes on each side on hot grill. Remove when they are charred but not fully cooked. Slice chicken breasts into 3/4 inch strips.

Add oil to frying pan on stove, heat to medium heat, add chicken strips, cook for 3-4 minutes. Next add the onions, cook 1-2 minutes, stirring them at they cook.
Add peppers, onions and cook a few more minutes until peppers are slightly cooked. Be careful not to overcook the peppers they taste best a little crunchy.