Creamy Yogurt Cucumber Salad, delicious in the summer. I picked these crispy little dudes today and sliced them up for this easy tasty salad. You can use the long green cucumbers or any type that you can purchase from your local markets. Simply slice them up thin, and top them with this wonderful creamy yogurt salad dressing, so easy to make and you can make this salad in no time at all. Simply slice up the cucumbers, top it with the dressing and refrigerate 10-15 minutes before serving.
Easy to make using simple ingredients giving you the delight of fresh salads in the summer. Start with some fresh cucumbers, slice them thin and pile them in a medium size bowl.
Pour over the delicious tasting yogurt dressing.
Creamy Yogurt Cucumber Salad

Print recipe
Directions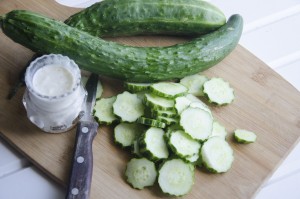 Ingredients
1 cup Mayonnaise
1/2 cup plain yogurt
3 Tablespoons white vinegar
1/4 cup white sugar
1 teaspoon celery salt
dash black pepper

3 cucumbers sliced thin, with or without peeling.

Mix ingredients together mayonnaise, plain yogurt and wihite vineagar until smooth. Add sugar, celery salt and black pepper and stir until all is well blended. Pour creamy yogurt sauce over sliced cucumbers and mix well. Let set in refrigerator for 10 to 15 minutes