Apple Pie Cheesecake is the perfect desert, it is a luscious combination of two favorite deserts, apple pie and cheesecake. All in one delicious bite, oh so good. It is a taste-bud's dream come true, it combines apple pie spices, baked apples, topped with a rich creamy layer of cheese cake, on a tasty graham cracker crust. It is the perfect desert for any occasion.
Easy to make, press your graham cracker mixture into a spring- form pan, top with chopped apple mixture, and pour over the cheesecake batter and bake. It is best to use some sort of cooking apple, like Jonathan or Macintosh, but you can use pretty much anytime of apple. If you use a real tart apple just like granny smith, just add a couple additional tablespoons of sugar, and it will be just as delicious.
Apple Pie Cheesecake

Print recipe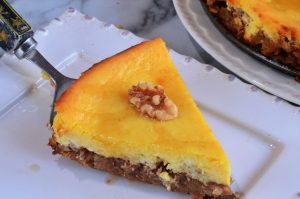 Directions
Cheese Cake Ingredients

2- 8 ounce packages of cream cheese
2 eggs
1 teaspoon vanilla
½ cup granulated sugar

Crust Ingredients

1 cup gram crackers ground fine in food processor
3 T butter

Apple Pie Ingredients

3 cups chopped raw cooking apples; best choices are Macintosh or Jonathon, but any type will work.
1/3 cup granulated sugar
¼ teaspoon Ginger
¼ teaspoon Cloves
¼ teaspoon Nutmeg
1 teaspoon Cinnamon
1 Tablespoon flour
½ cup chopped walnuts
Maple syrup for drizzling over top of cheese cake

Instructions
For the crust grind up the graham crackers, a food processor works good to grind them up or use a rolling pin. Melt butter and combine with ground graham crackers and press in to bottom of spring-form pan.

Top graham cracker crust with chopped apples. In separate bowl mix ginger, cloves, nutmeg, cinnamon, 1/3 cup granulated sugar, flour and walnuts together and sprinkle over apples.

To make the cheesecake layer, beat cream cheese, vanilla and sugar until smooth. Add beaten eggs and blend well. Pour cheesecake mix over apples.

Put in 350 degree pre-heated oven for bake 50-60 minutes. To check for doneness insert a toothpick in the center of the pie, when the toothpick comes out clean the pie is done.