Try these delicious creamy chicken crab enchiladas for your next meal or party. They make a delicious side or appetizer. Easy to make you can make your own chicken breast or use rotisserie chicken. Simply mix the ingredients together and bake them in soft corn taco shells, until the creamy cheese oozes out of them. Top hot out of the oven, creamy chicken crab enchiladas with your favorite hot sauce, fresh salsa or sour cream. They can be made ahead of time and kept in your refrigerator or freezer. You can keep them in your refrigerator for up to 3 days or in freezer for 60 days.
Start with fresh ingredients or you can used canned chilies, your choice, both are good.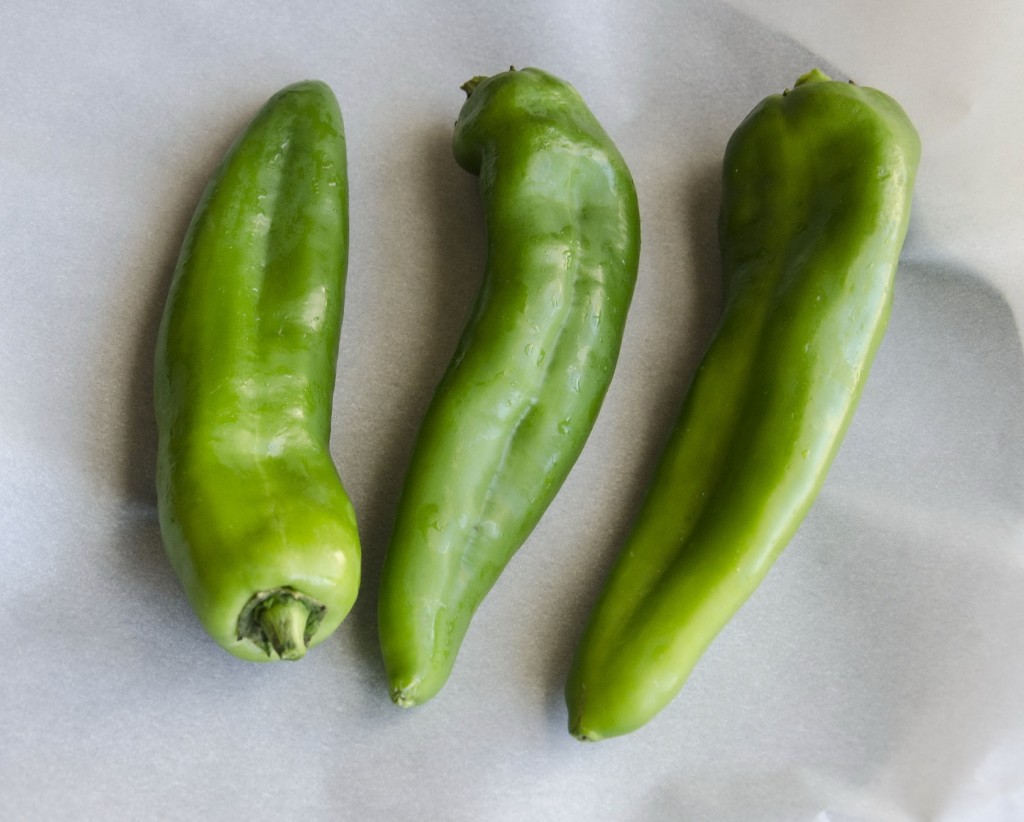 Char the peppers under the broiler, be careful do not to let them cook too long. Remove them from broiler put them in glass bowl and cover and let set for 10 minutes, then peel and remove seeds.
Mix together your ingredients, and get ready to fill your taco shells.
Yeah! Now ready to start filling the taco shells, it is so easy and fun to put it all together.
Top rolled enchiladas with cheddar jack cheese and green onion.
Remove from oven and top with your favorite hot sauce and avocados.
Sour cream and tomatoes make a great topping too.
Creamy Chicken Crab Enchiladas

Print recipe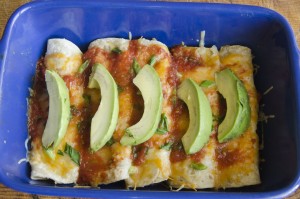 Directions
Ingredients
1 8 ounce package of cream cheese
1/2 cup milk
Dash of black pepper
2 cups cooked chicken breast
1 cup real or mock crab
3 Anaheim chilies broiled, peeled and chopped or one small can of green chilies
3T fresh cilantro chopped
3 cup cheddar jack cheese shredded
20 Soft white corn shells
3-4 green onions
3 - 4 T cooking oil
1T fresh lime juice
Hot Sauce for topping
Avocados sliced for garnish optional
Sour Cream for garnish optional

Preparing the Taco Shells:
In large frying pan add a couple tablespoons of corn oil, heat up frying pan, add 3-4 taco shells at a time, to the hot frying pan. Heat each taco shell 2-3 minutes on each side. You may need to add a little more oil after you make a few. Add enough oil so they do not stick to the pan. Cooking them this way, will make them more pliable for folding and add more flavor to the taco shells.

Preparing the Filling:
In separate, large frying pan, add cream cheese and milk, cook over low heat, stirring occasionally. Continuing cooking and stirring over low heat until cream cheese and milk, forms a nice hot creamy sauce.

To the sauce add black pepper and lime juice and stir together.

Next add chicken, crab, chilies, cilantro, 1 cup cheddar jack cheese and combine well.

Making the enchilada:
Add couple spoonful's of filling to soft corn shells, roll it like a jelly roll, placing sealed side down, top with more cheddar jack cheese and green onion tops.

Bake at 350 degrees for 20 - 25 minutes, until cheese is melted. Top with your favorite hot sauce and sliced avocados.
will make 20 enchiladas

**tip for making fork tender chicken breasts, cook raw chicken breasts on low in your slow cooker for 6-8 hours. I season them, add a little water to my slow cooker and let the cook over night. They are just right for enchiladas or chicken salad.