Whole Wheat Bread with Bread Machine

Print recipe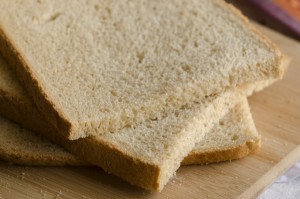 Directions
Ingredients
3 1/4 cups whole wheat white flour
1 cup white flour
2 Tablespoons brown sugar
2 Tablespoons butter
1 1/2 teaspoon sea salt or regular salt
1 3/4 teaspoon yeast
1 1/2 cup water
1/4 cup milk

Using Panasonic Automatic Bread-maker SD-YD250, add all of the above ingredients to Panasonic bread machine pan EXCEPT the yeast. Add the yeast to the top compartment, designed to hold the yeast, which drop in to the bread pan, once all the ingredients are warmed up, automatically by the bread machine.

Choose whole wheat cycle and press start.

**Using other bread machines take 1/4 cup of the specified water and heat to 105 to 110 degrees, add yeast to warmed water and let set for 6 minutes. While yeast is working in the warm water, add all of the other ingrediants to the bread pan and choose cycle according to manufacturer's baking instructions.