Whole Grain Bread Machine Focaccia is a delicious healthy bread that can be easily made in your bread machine. Simply add the ingredients to your bread machine and let the bread machine to the work for you. A tasty Italian bread topped with olive oil, red onions and rosemary. Great with any meal as is or top it with garlic butter and toast it under the broiler. The smell of Whole Grain Bread Machine Focaccia baking in your kitchen is wonderful, nothing like the smell of homemade bread baking with rosemary. I love the smell of rosemary and it really adds great flavor to this special Italian bread. I have used a lot of different bread machines and Panasonic makes the best bread machine, mainly because, there is a top compartment that drops the yeast in, once all the ingredients are heated up.  Panasonic Bread Machine.
To make, add the ingredients to your bread machine and use the dough or pizza cycle, some bread machines note pizza for their dough cycle. When the dough cycle finishes, divide dough into two pieces. The dough may be a little sticky, lightly flour each half and press each on to a cookie sheet layered with a sheet of parchment paper or oiled well. Shape each piece of dough into an oval pressing it down and spreading it out on the pan, to about 1/2 inch thick. Then top each shaped oval piece with half of the red onion, rosemary, and oil mixture.
Let rise in a warm place. I will turn on my overhead stove light and let it rise there for about one hour. You can tell it is done rising, when you put a small dent in dough with your finger, about 1/4 inch deep and the dough does not bounce back. Add to preheated oven at 375 degrees and bake for 12-15 minutes until golden brown.
Whole Grain Bread Machine Focaccia

Print recipe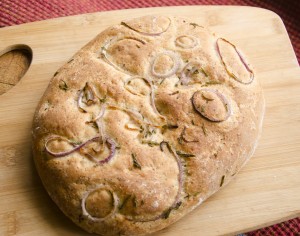 Directions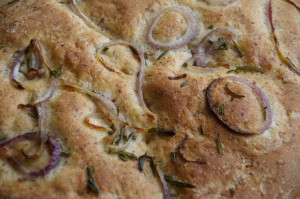 Ingredients
3/4 cup water heated to 105-110 degrees
1 1/2 teaspoons of yeast
1 large egg
1 tablespoon butter chopped in several pieces
1 1/2 cup white bread flour
1/2 cup whole wheat white flour
1/4 cup ground flax
1/4 cup wheat germ
4 teaspoons sugar
1/2 teaspoon salt
1/ 4 red onion sliced thin
2 Tablespoons fresh rosemary or 1/2 teaspoon dried crushed
3 Tablespoons Olive or corn oil, olive oil is best.

Add yeast to warm water and let set 6 minutes
Add to bread machine canister: flours, flax, wheat germ, sugar, salt, butter, yeast water mixture, and egg. Set bread machine to dough or pizza cycle and let it run.

Add three tablespoons of olive oil or corn oil to medium size frying pan and add rosemary and red onion slices, heat on medium heat until onion is tender.

Once the cycle is finished, remove dough from bread machine canister and lightly flour dough, divide in half. Use two cookie sheets, cover each with parchment paper or cooking oil. Pat each piece of dough in to an oval about 1/2 inch thick, top with rosemary and red onion mixture, using half of this mixture for each oval. Let rise for about one hour. The dough will be done rising when you slightly dent the dough about 1/4 inch, with your finger and the dough does not pop back.

Add raised dough loaves to 375 degree preheated oven for 12 to 15 minutes, remove when golden brown.


<iframe style="width:120px;height:240px;" marginwidth="0″ marginheight="0″ scrolling="no" frameborder="0″ src="//ws-na.amazon-adsystem.com/widgets/q?ServiceVersion=20070822&OneJS=1&Operation=GetAdHtml&MarketPlace=US&source=ac&ref=tf_til&ad_type=product_link&tracking_id=redapple03-20&marketplace=amazon&region=US&placement=B00005QFL0&asins=B00005QFL0&linkId=beac9873579777478cefa5d9e91735bf&show_border=false&link_opens_in_new_window=false&price_color=333333&title_color=0066C0&bg_color=FFFFFF">
</iframe>