French Onion Parsley Soup is a delicious soup that is very easy to prepare. I make a small beef roast in the crock pot the night before, giving me the most delicious beef broth. I used this awesome tasting beef broth as my base for the French Onion Parsley Soup. Next I added sliced onions, chopped carrots, parsley, and seasonings and let it simmer for a couple of hours. The best part I finished it off, by topping the soup my home made Flax & Wheat Germ Baguettes and Swiss cheese, put it under the broiler until bubbly, ahhh so good.
To give the beef broth a heartier flavor, I add beef broth paste to the crock pot with the beef roast and let it cook slow over night. Cooking the beef broth this way, makes the best full flavored beef broth, lots of body and true beefy flavor. You could also used prepared beef broth from your grocer,  but making your own with a roast this way, makes a much richer tastier beef broth. Topping the soup with the crusty baguettes and Swiss cheese, made it a complete meal. You don't need to add anything else, just enjoy the flavors of the soup with the crustiness of the bread and smoothness of the melted cheese, what a perfect combination.
I started with simple ingredients and ended up with a stellar soup, my family loved it!
Mixing it all up in the kettle was very easy, yet is tastes like it was so much work. Hmm, almost looks good enough to eat now.
I simmered it for about 2 hours, but you don't have simmer it quite that long. One to 1 1/2 hours would work too, cook long enough for veggies to get tender. I think simmering it the 2 hours gives the soup a better flavor, cooking soups slower and longer, always gives them better flavor
Preheat your oven broiler and set the soup topped with cheese under the broiler, and broil until cheese is melted, oh yum!
French Onion Parsley Soup

Print recipe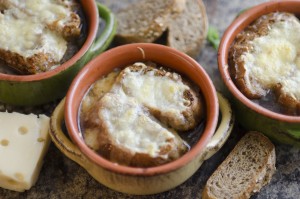 Directions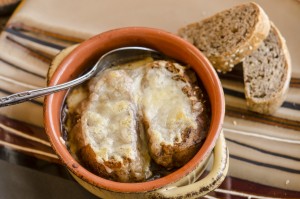 Ingredients
10 cups beef broth
2 cups of shredded roast beef
3 large onions sliced thinly
1 cup of raw cubed carrot
1/4 teaspoon black pepper
8 ounces Swiss cheese
1 baguette, cut into 3/4 inch slices and toasted under broiler
1/4 cup fresh parsley
two bay leafs
2 Tablespoons of beef broth paste

Instructions

Make your beef broth by using a 2-3 pound roast beef, cook 8 hours on low in a crock pot with 10 cups of water, season with salt and pepper, add bay leaf and beef broth paste to crock pot. If your crock pot does not hold that much liquid, make it with less, 8 cups is fine. I like to make it overnight in crock pot while i am sleeping, then it is ready to go the next morning.

Once your beef broth is ready, add to a large sauce pan, add enough liquid to make it 10 cups. Add thinly sliced onions, cubed carrots, parsley, black pepper, and roast beef, bring to boil and simmer for one hour, or longer.

Preheat oven broiler. Use oven safe bowls, to each bowl add the finished soup, two toasted baguette pieces, top with Swiss or provolone cheese and put under broiler until cheese is melted and bubbly. Serve hot.

**Try my Wheat Germ & Flax Baguettes in breads, https://sliceoftaste.com/wheat-germ-flax-baguettes/