French Onion Parsley Soup is a delicious soup that is very easy to prepare. The secret to the awesome flavor of this soup is the delicious broth created by slow cooking.  To make this amazing tasting beef broth,  you the cover roast with 12 cups of water and slow cook for 8 hours. The  will turn the water into the most amazing tasting beef broth. The roast comes out so falling apart tender and juicy, flake the meat with a fork and Remove broth from slow cooker and add plenty of thinly sliced onions, chopped carrots, parsley, and seasonings and let all the veggies mingle and add more flavor to the broth. The best part I finished it off, by topping the soup my home made Flax & Wheat Germ Baguettes and Swiss cheese, put it under the broiler until bubbly, ahhh so good.
To give the beef broth a heartier flavor, I add beef broth paste to the crock pot with the beef roast and let it cook slow over night. Cooking the beef broth this way, makes the best full flavored beef broth, lots of body and true beefy flavor. You could also used prepared beef broth from your grocer,  but making your own with a roast this way, makes a much richer tastier beef broth. Topping the soup with the crusty baguettes and Swiss cheese, made it a complete meal. You don't need to add anything else, just enjoy the flavors of the soup with the crustiness of the bread and smoothness of the melted cheese, what a perfect combination.
I started with simple ingredients and ended up with a stellar soup, my family loved it!
Mixing it all up in the kettle was very easy, yet is tastes like it was so much work. Hmm, almost looks good enough to eat now.
I simmered it for about 2 hours, but you don't have simmer it quite that long. One to 1 1/2 hours would work too, cook long enough for veggies to get tender. I think simmering it the 2 hours gives the soup a better flavor, cooking soups slower and longer, always gives them better flavor
Preheat your oven broiler and set the soup topped with cheese under the broiler, and broil until cheese is melted, oh yum!
French Onion Parsley Soup

Print recipe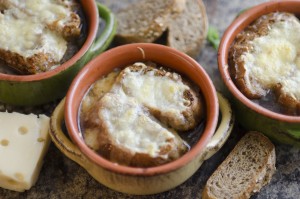 Directions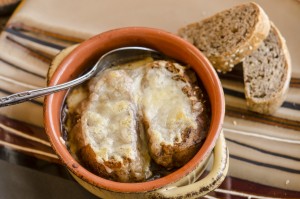 Ingredients
12 cups beef broth
3 cups of shredded roast beef
3 large onions sliced thinly
1 cup carrot raw cut in to small cubes carrot or frozen
1/4 teaspoon black pepper
8 ounces Swiss cheese
1 baguette, cut into 3/4 inch slices and toasted under broiler
1/4 cup fresh parsley
two bay leafs
2 Tablespoons of beef bullion paste or 6 bouillon cubes.
2 Tablespoons Worcestershire Sauce

Instructions

Using a slow cooker add roast beef, water, beef bouillon, Worcestershire sauce, black pepper, and bay leaves cook 8 hours on low.

Remove beef roast and pull it a part with a fork into shreds, trim off any viable fat.

To slow cooker with the beef broth add 3 cups of shredded beef, onion carrots, parsley and slow cook 3 hours.

Tip for faster cooking: You can finishing soup on your stove by adding
beef broth, the 3 cups of shredded beef, onion carrots, and parsley to a large saucepan and simmer for one hour.

Finishing off the Soup!

Preheat oven broiler on high. Use oven safe bowls, to each bowl add soup, two toasted baguette pieces, top with Swiss or provolone cheese and put under broiler until cheese is melted and bubbly. Serve hot.

**Try my Wheat Germ & Flax Baguettes in breads, https://sliceoftaste.com/wheat-germ-flax-baguettes/