For the tomatoes, I used my yellow and red salad tomatoes from my garden. You can use any choice of tomatoes, slice then thin and pile them on your sandwich.
Toast your bread, smear on a dab of mayo and pile high, tomatoes and avocado.
I like to use romaine lettuce, it is crunchy and always adds good flavor, but you can use any type of lettuce to your liking, the fresher it is the better your sandwich will be.
Top veggies with a layer of cooked yummy bacon and another slice of toast with mayo and you are ready to dig into a tasty sandwich that only took minutes to prepare.
Avocado Bacon Tomato and Lettuce Sandwich

Print recipe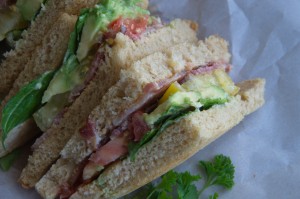 Directions
One pound lean bacon
Sliced tomatoes
Sliced avocado
Mayo for sandwiches
Lettuce of your choice

Cooking the bacon
Preheat oven to 350 degrees
Lay on cookie sheet bacon

Add bacon to preheated oven in middle rack, bake 12-20 minuets to desired doneness. Depending on the thickness of the bacon it can cook pretty fast, so watch closely.